Q&A with Ryan Garvin | Meet the Artist Behind Our Latest Collection
Saturated with rich colors, glowing with light, and imbued with details, Ryan Garvin's photography is nothing short of jaw-dropping. We are thrilled to introduce Scout & Nimble's collection of prints by this incredibly talented photographer.
From aerial beach shots that have us dreaming of a summer vacation to glowing neon signs inspiring our next road trip, we can't get enough of these prints. Keep reading below to learn more about Ryan's process, his inspiration, and the cookies he can't live without!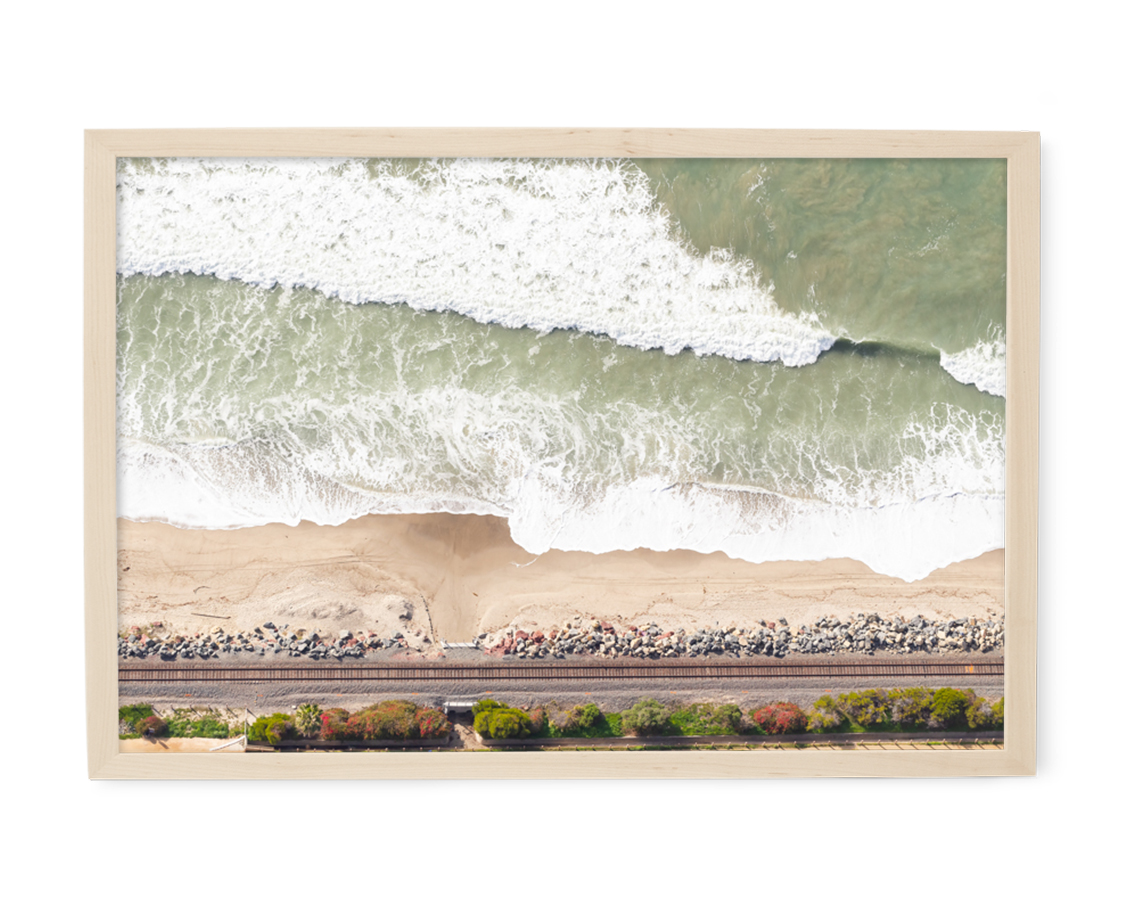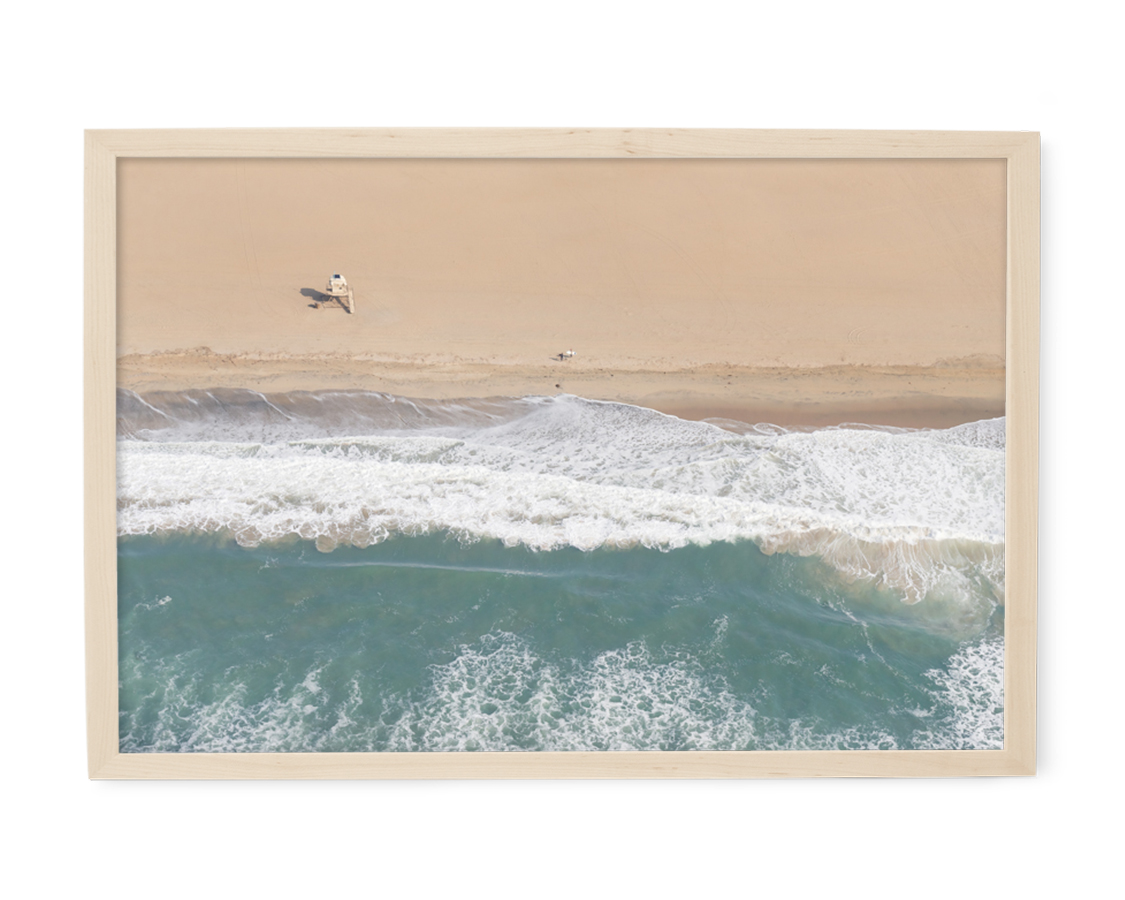 Tell us a little bit about yourself and what's currently going on in your life.
I've been a photographer for almost a decade now, and prior to that I was involved in children's ministry. I've been to married to my wife for 11 years and we have a two and a half year old son and two week old daughter as of this writing!
Let's dive a little deeper into how you ended up as a working photographer in this industry. Where did it all begin? How did you get started in photography?
I got my start in interior design photography serendipitously. My friend Kelly Nutt (of Kelly Nutt Design) asked me to photograph one of her first projects. I loved everything about her work and about the process of shooting an interior that was so thoughtfully designed. The rest is history as from there I wove my way into the design industry and worked diligently to create a reputable portfolio of work and build a name for myself as a go-to photographer.
From all the experience you've had working in this industry as a photographer, what's one bit of advice you would give to someone starting out on a similar journey as yours?
I would recommend staying in your lane and not focusing so much on what your competition is doing. I do think it is good to be cognizant of what your competitors are doing, but again, don't focus on it.
If you weren't working as a photographer, what would you be doing?
I am actually working on that now! My wife and I have always had dreams to invest in real estate and flip properties documenting the journey along the way. I have a business partner in Newport Beach and we formed a real estate group to head start the process. I am very excited for what's ahead with it!
How did you get started shooting interiors?
My wife was in the entertainment industry doing acting and dancing and I initially started out shooting headshots for my wife and her friends. Through networking and tirelessly shooting head shots and then weddings, that blossomed into interiors when I met Kelly Nutt. Kelly was my first design client and we have been dear friends ever since we did our first shoot together!
While shooting interiors requires a creative eye, it requires technical skill and knowledge, too. What was the learning curve like for you when first started working in this industry? Did you have a mentor?
There is a learning curve for sure. When I first started, social media wasn't a thing and YouTube didn't have the plethora of how-to videos it now has. The internet was still coming of age, so books and manuals were the best place to learn.
I had no prior photography experience so I relied solely on intuition to figure out my aesthetic and how to get the final product to look how I envisioned it before shooting it. I look back on my first shoot every once and while and I am still relatively impressed by how well I did without having any true interior design photography experience.
What do you love about shooting these spaces? Why have you chosen interior design to be the focus of your work?
For me, I love many of the spaces I shoot, but I primarily love people and the relationships I get to build with them. The designers I am fortunate to work with are so incredibly talented and I truly feel so grateful to be entrusted with documenting their creativity and design.
What is the process like when working with designers? What does the creative dialogue look like during the shoot?
I am a very collaborative person at shoots. My clients have a mutual respect for me and my talent and they place a lot of trust in my abilities. At times it does feel like a lot of pressure, but a little pressure is a god thing in my opinion.
There has been a lot of talk lately regarding the designer/photographer relationship and creative rights. What's your take on the issue?
My job is to document the space for my client. Without their work, I would have nothing to take a photo of. I am fairly liberal with my usage and what my clients can do with their photos.
I do know there are other opinions out there on this topic, and I feel that each business owner is entitled to decide how they want to license or police their images. I don't get too caught in the weeds with it.
You have a book scheduled to be published later this year, can you tell us a little bit about your decision to publish the book and what we can expect to see in it?
Yes! A really awesome opportunity was presented to me by publisher Gibbs Smith and author Molly English to collaborate on a coffee table book geared toward the "cottage" style of homes. Having photographed hundreds of homes over the span of my career thus far, I had quite the body of work to supply for the book.
It has been a fun process working on the book and I think there is a little something for everyone in there when it comes to the unique ways different designers envision what a "cottage" is.
Contemporary Cottages by Molly Hyde English with photography by Ryan Garvin is now available for pre-order with a release date set for May 14, 2019.
Who are some of your favorite photographers?
Scott Frances, Paul Nicklen, and Danny Clinch to name a few.
What type of work do you find yourself gravitating toward? What draws you to this type of work?
With interiors, I love variety, and thankfully I have plenty of it!
What goals are you currently working towards as an artist?
I am currently working on a second book!
What would your dream project be?
This may sound trite, but I feel like I am living the dream and have so many amazing projects coming across my plate constantly!
The Scout & Nimble x Ryan Garvin Collection
What made you decide to do a collection of fine art prints?
I have always sold fine art privately upon request, but the demand to scale has been there and I just haven't had the bandwidth!
Can you tell us about your process shooting those stunning arial shots?
About eight years ago I had the wild idea to creatively recharge by getting up in a helicopter and shooting from a different perspective. I have made it a point to maintain that "recharge" by periodically taking flight to capture fresh and unique images of local spots (local to me) that few people see the beauty of from above.
What are some difference between shooting interiors and aerials?
Same gear. Different camera settings. Fairly similar editing process.
Can we expect to see more fine art prints from you in the future?
Absolutely! I have some fun ideas with classic cars that may be coming to a website near you soon!
Morning person or night owl?
Both. Black coffee in the morning. LOTS of it. And pure passion fueling the late nights (and the occasional bottle, I mean GLASS of wine!).
What's the one thing you can't live without?
Coffee. Particularly espresso.
Dream Vacation?
A staycation at my wife and I's favorite local spot, the Montage Laguna Beach.
What's your biggest inspiration?
My wife and two little ones. They drive me forward and make me a better human.
What do you do to relax?
Late night meditative prayer walks.
Favorite album on repeat?
I'm shuffling between Kip Moore's "Wild Ones" and Brooks & Dunn's greatest hits album right now. I love me some country music!
Snack/treat of choice when editing images?
Capello's chocloate chip cookies. You've gotta get some if you've never tried them! Thank me later.
What other creative outlets do you use?
Golf and cycling on my road bike. I love getting outside and experiencing nature and exploring. Ideas flow when I'm outdoors!
Must follow instagram accounts?
Well, Scout & Nimble and me of course! I also love the humor and positive messaging Ellen (@theellenshow) is doing, and I enjoy the inspiration and hustle behind Ryan Serhant's feed (@ryanserhant).
Podcasts you can't live without?
The Joe Rogan Experience. He often has super interesting guests on and it's a fun and informative listen.
Current book you can't put down?
The 12 Rules for Life by Jordan Peterson. Highly recommend checking it out.
Who is your dream dinner guest?
Keith Urban.
Childhood dream job?
An airplane or helicopter pilot.
How would you encourage your younger self?
I would tell the younger me to get to know myself and love myself really well because self-awareness breeds so many wonderful things.