Before & After | Lucky 33 Master Bedroom Reveal
We're taking a peek into the master bedroom of our recently completed St. Louis project. This room has been transformed into a sanctuary for our clients, with soothing black walls and a thoughtful selection of statement pieces.
Scout & Nimble designer Jesse Bodine tells us more about creating this restful room in the video above.
Before: Master Bedroom
After: Master Bedroom
The client wanted a room that felt relaxing and subtle, without too much fuss and fanfare. The biggest transformation in the room has to be the black walls. This specific shade, Cheating Heart by Benjamin Moore, has a slightly blue undertone that creates such a tranquil environment. You just can't go wrong with this color!
We chose a our Devon Bed, a platform bed instead of the usual upholstered headboard. Even though it has really clean and simple lines, it is still a strong piece that contrasts beautifully with the crisp white linen without competing with the dark walls. The linear detail on the headboard, the pillows, and throw add a few subtle textural touches that don't detract from the calm in the room.
Our Safi Cloud Cream Rug, is a wool tribal rug is luxuriously soft underfoot and its subtle colors add just enough pattern on the large floor area. These rugs are virtually indestructible and are perfect for families with kids or pets. Notice how the diamond motif is repeated in our Peykan Gardenia pillows that we used on the bed – clever, isn't it?
We went all out with our gorgeous Kent 3 Drawer Chests that serve as nightstands. Their rivets & brass finish really make them the eye-candy in the room. Because this is a rather small master bedroom, we had to find a clever solution to add as much storage as possible. These nightstands have 3 large drawers each, providing ample storage for smaller items and making them not only beautiful but also super functional. They are the perfect focal pieces in this otherwise understated room.
A ceiling fan is very much a personal choice: some people hate them and others can't live without them. Our clients insisted on having one in their bedroom because they enjoy sleeping with a fan on at night. Thankfully, there are some beautiful fans available now, so we chose our La Salle 60″ fan, with super aerodynamic blades to complement the design of the room.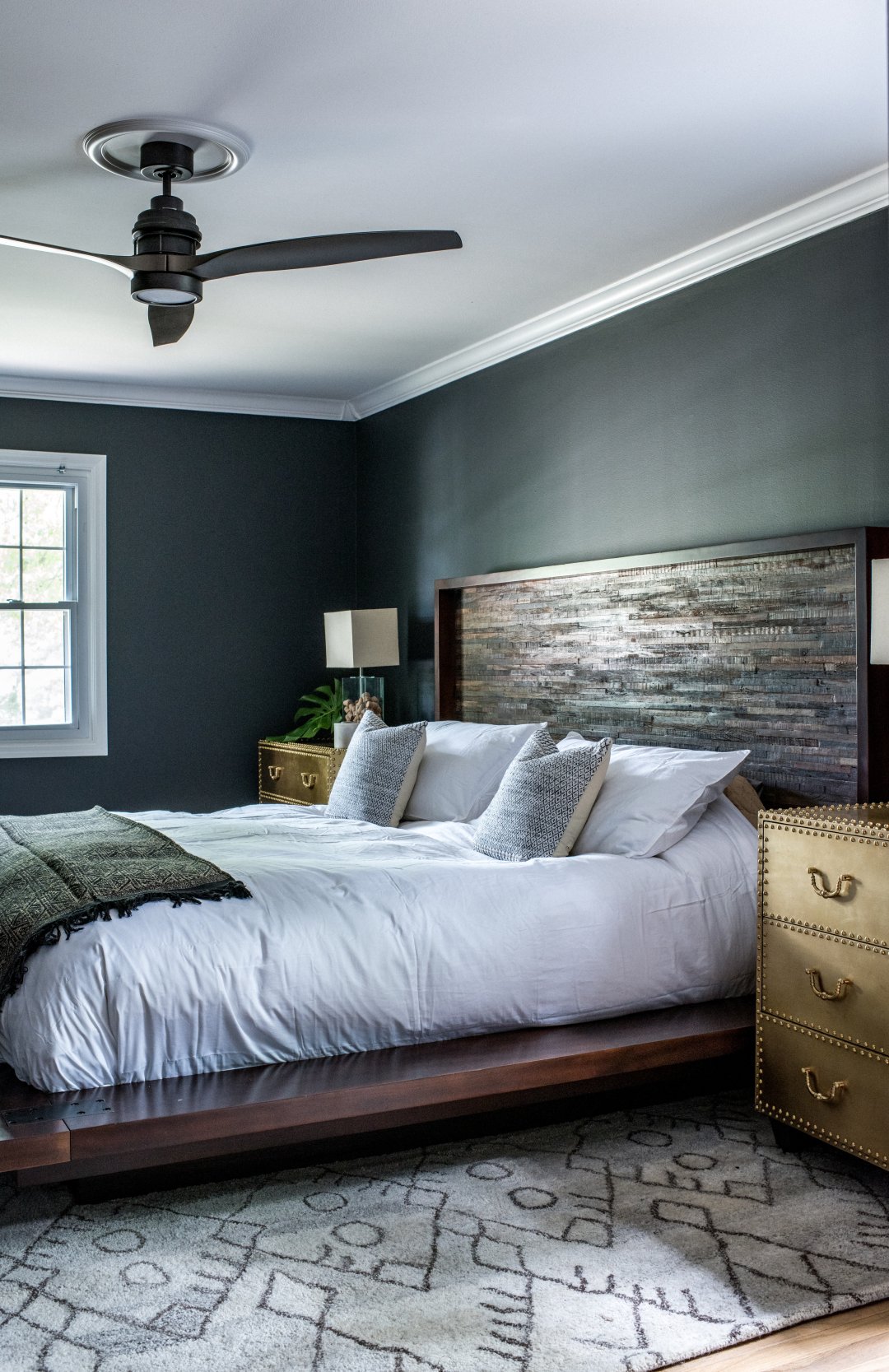 Love the Lucky 33 Remodel? Check out other Lucky 33 rooms below!