Before & After | Lucky 33 Four Seasons Room Reveal
The next room on our St. Louis home tour is the Four Seasons Room. Our clients were most excited about this room because this was where they envisioned themselves spending a lot of time as a family. We wanted to make sure that the room was comfortable and inviting, creating a perfect space for our clients to spend time together and relax.
Before: Four Seasons Room
This room has amazing natural light but the dark walls didn't do it justice, so the first step was to change the wall color. We replaced the burgundy with a main house paint color, London Fog by Benjamin Moore. We did this to make moving from one room into another, even though they are separated, as seamless as possible. This immediately opened up the room and amplified the light. We utilized many existing pieces here but brought in a few key items to freshen up the look and take it up a notch. This created the lively boho-feel that we were after, filled with lots of textures, natural wood elements, and plants.
We used 2 different rugs layered over one another; the contrasting textures add interest and layering smaller rugs over each other is also a very effective way to make them more proportionate to a large room.
Instead of using one coffee table, we opted for these two bunching tables which not only add essential storage with their concealed drawers, but serve as a focal point with their beautiful parquet pattern. Made of durable hardwood, they can serve as two separate table tops or can easily be pushed together as needed.
A hanging rattan swing adds a laid-back, playful element to this space. This fun seating option was the perfect final touch and the kids have already claimed it as their favorite place to hang out.
We added in a set of nesting tables between the sectional and swing. When extra surface space is needed, the lower table can easily be utilized elsewhere. These pretty nesting tables have antiqued brass tops with a quaint nailhead detail, adding warmth and character to the room.
We chose to accessorize the room with a variety of potted plants and succulents. Plants are a great way to bring the outside in and add so much life to a space.
Like what you see?
You can now shop all the Four Season's Room Products here!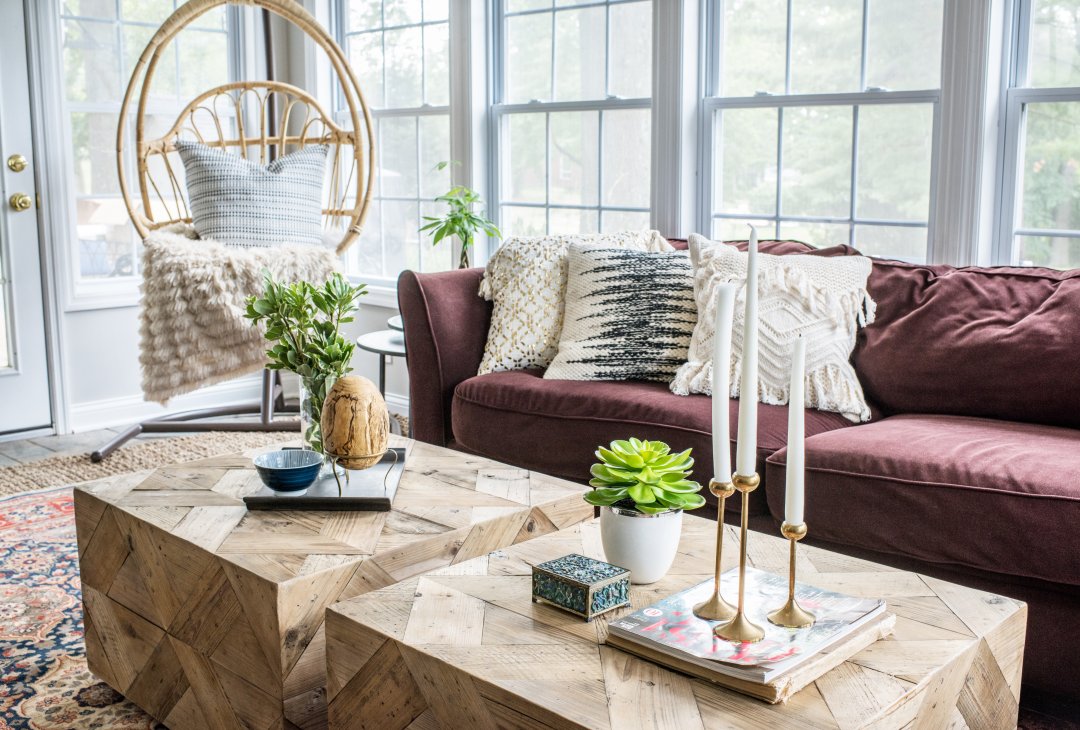 Love the Lucky 33 Remodel? Check out other Lucky 33 rooms below!