Leather and indigo have been popular in both fashion and interiors for many years, but the latest trends are combining the 2 in fresh new ways allowing for both formal and informal designs. Here are our top 6 tips for working with natural leather and cool indigo in your home.
1. Natural materials and interesting textures
Deep indigo and tan leather is a classic combination that goes extremely well with coarse sisal, coir, seagrass and rough wooden elements. This lovely room maximises the natural light by keeping the furniture and accessories light and fresh, creating a laid-back coastal look. Bold fabric prints, brightly colored artwork and the pop of vibrant green from the Strelitzia (Bird of Paradise) further add to the fun, informal feel.
2. Upholstery Options
Indigo is a very practical color for upholstery: it is dark enough to be resilient to dirt without being overpowering in a room. Combine indigo sofas with patterned cushions and throws in a subdued palette of brown and navy, and add natural leather occasional chairs for a sophisticated yet comfortable look. A check ottoman further adds a beautiful traditional element to this living room.
3. Accent with Artwork
Give the trend a subtle nod with blue in your artwork. This image makes clever use of denim in a photograph, with only the deep blue color being echoed in the upholstery on the sofa. Combined with midcentury furniture and antiqued leather, this beautiful study corner integrates seamlessly with the rest of the room.
4. Throw some color on the wall
For dramatic walls, paint them in a deep indigo and furnish the room with pale tan leather, distressed wood, and wool. Maximize the effect with a gallery wall or statement artwork against the colored background. Remember to always first test a new wall color by painting a small patch on the actual wall. See how both natural and artificial light affect the color at different times of day before you commit.
5. Moody Accent Pieces
If indigo walls seem too bold then go for a minimalist room with an accent piece in this rich color. Keep the focus on the piece by having the rest of the room simple and utterly clutter free. Tan leather and brass combine beautifully with natural wood and stone accents without taking any of the attention away from this striking wardrobe.
6. Freshen Things Up With White
A white on white palette creates a great neutral background to work from in any room. This living room makes use of varying textures that add depth and interest to the elegant white and wooden furniture. The leather ottoman adds warmth to the room and the indigo throws and pillows make for a welcome pop of color.
Shop Our Favorite Leather and Indigo Items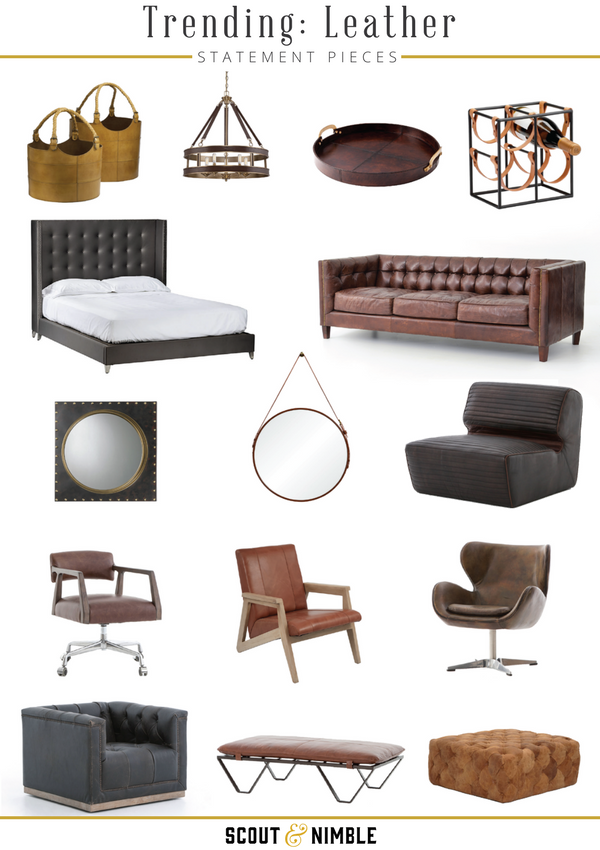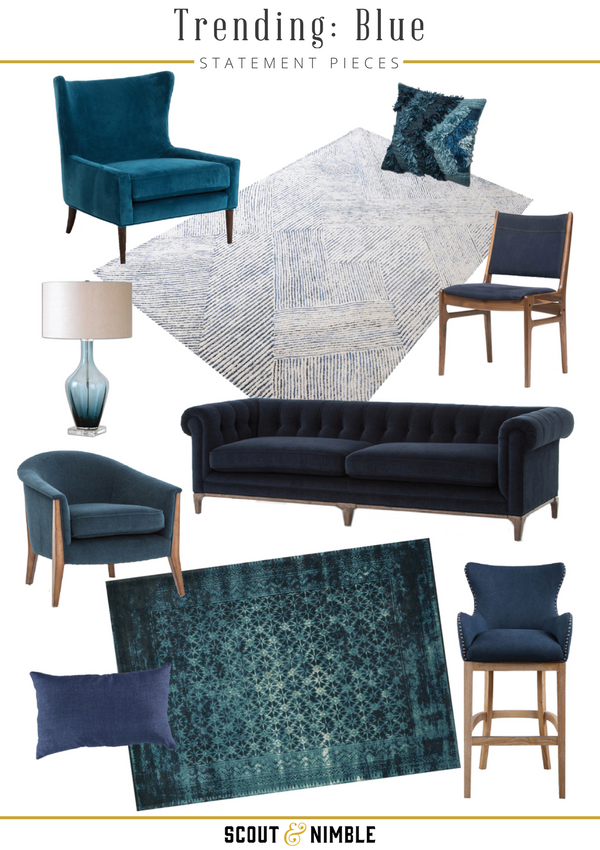 Image 1: House of Jade Interiors
Feature Image: