The next room that we're taking a closer look at in our St Louis home tour reveal, is the Den. Our own Jesse Bodine tells us more.
 S&N's Jesse Bodine takes us through the design:
This space had fabulous bones we loved, from the parquet floors to white brick fireplace, however, there were several issues that needed to be addressed. The art was not to scale on the walls and the picture height varied throughout the room.
Before: Den
The bar area felt very cluttered and the room felt cold without any rug.  The other thing that was hindering this space was it's location in the home. It was right in middle of the house, so it had no windows and felt a bit darker and cavelike. We wanted the space to feel lighter and brighter while still keeping that cozy feel so the homeowners could utilize it to its fullest. Scroll down to see the after!
 After: Den
We started with a traditional blue and white color combo, but kept it fresh and current. We played around with wood tones and mixed styles to add warmth and create a feeling of the pieces within the space being collected over time. Then we brought in loads of texture. We layered the two rugs to ground the space and added in lots of pillows and throws in varying patterns and materials. With our tabletop accessories, we mixed woven baskets and greenery with sleeker materials, such as glass vases and a bottle lamp. All of these together make the room feel both welcoming and inviting.
While white upholstery might seem brave, these sofas have been covered with Crypton fabric. It is an amazing interior fabric with the durability and stain resistance of an outdoor fabric, making it perfect for kids and pets. This room just invites you in to lounge and relax.
We love the layered rug look we used here. The braided jute rug has a gorgeous pattern that peeks out from underneath the blue and white handwoven one that was placed on top. This is one of those tricks that anyone can use, especially if you have a rug that is too small for a space!
The artwork – Lucky 33 – is a custom-made piece. The number has great significance to the clients, and deserved a special space in their home. The artwork was created on plexiglass instead of canvas, making it pop off the wall and creating a vibrant focal that is sure to be a conversation starter. We also added some beautiful lighting with a floor and table lamp that are practical for reading while creating pools of ambient light.
We played with loads of textures in this room, and also used varying hues of blue from indigo to cobalt and navy. The caramel leather poufs add a fun and informal element to the room. You can use poufs as extra seating or to put your feet on, making them both super comfortable and practical.
Shop all Lucky 33 Den Products here!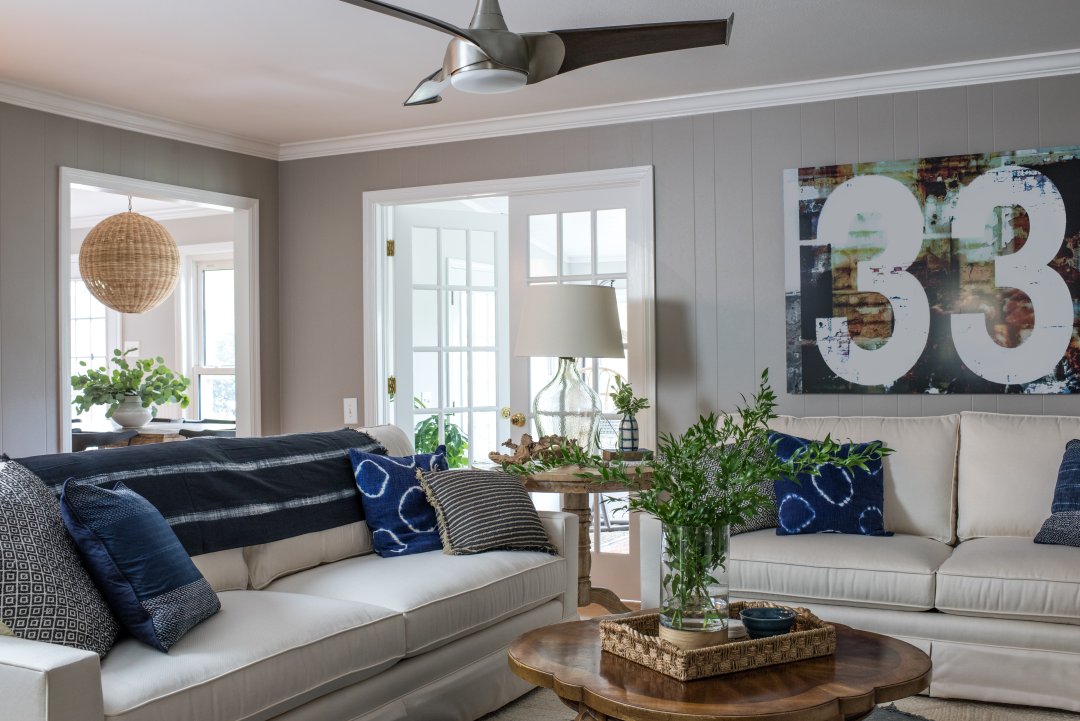 Our next stop is the Kitchen and Four Season's Room – don't miss it!